RV Adventure week 8 - April 20 to April 26
April 20, 1996 - If you got tired of state capitols, now we start our non-stop tour of parks. We visit Monument valley and then drive to Canyonlands National Park. Lots of worn down rocks.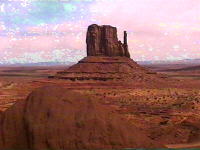 The only thing missing is the Cyote and Roadrunner - Monument Valley,AZ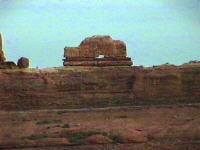 They call this the "shoe" arch - Canyonlands National Monument
April 21, 1996 - We drive around Arches National National Park. We get to the end of the park at sunset and we decide to walk on the trail. By the time we get back, it was very dark.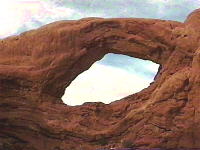 North window arch - Arches National Park
April 22, 1996 - Rocks, Rocks and even more Rocks! We visit the Colorado State Monument. We're running short on film, so we go to Target and buy $100 worth of film. Should have bought more film at Costco! Next we drive to Dinosaur National monument. On the map, it looks like a simple road going north. But it's not! There is an 8000 foot pass with very twisty roads. It's slow going, but we make it.
April 23, 1996 - It's Dino-mania! Today, we see the dinosaur quarry in Dinosaur National Monument. It's a wall chock full of huge dinosaur bones. Later we visit the local museum that has full size models of the dinosaurs. Also, it's Dinosaur Week on the Discovery channel - good thing these RV parks have cable!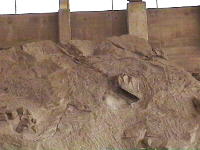 Can you find the dinosaur skull in this picture?
April 24, 1996 - Now for something completely different. We visit the Flaming Gorge Dam. There is a tour of the powerhouse. Later in the day it gets really windy and we cut our driving short and camp while it is gusting 60 MPH.
April 25, 1996 - We tour the Grand Teton National Park. Some of the roads are closed, so we can't drive up to Yellowstone directly. So we see what we can and then head to the west entrance of Yellowstone.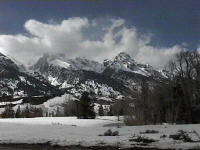 The Grand Teton mountain range
April 26, 1996 - We make it to the west entrance of Yellowstone in the afternoon. First, we see the Old Faithful area. There are lots of spouting and colorful water. We wait around to see Old Faithful erupt. Afterwards, we head to the Grand Canyon of Yellowstone for sunset. The steep canyon walls in the yellow sunlight are a sight. The roads in the park are filled with potholes, so I have to dodge them like a video game. Also along the way are wandering herds of buffalo and elk. They're just wandering about the road.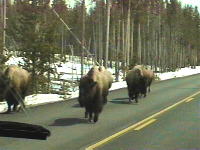 Buffalo wandering around the road - Yellowstone.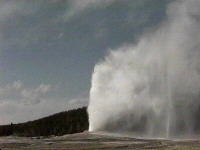 Old Faithful spouting off
Goto Week 9
Return to RV Adventure Home Page