RV Adventure week 9 - April 27 to April 30
April 27, 1996 - Mammoth hot springs - they sure are! We wander about the colorful terraced landscape. After leaving Yellowstone, it starts snowing and then hailing. It sure looks a lot like winter here.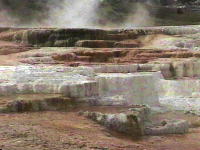 April 28, 1996 - We've seen so many state capitols, that we might as well go out of our way to see Montana's. We visited the capitol of Montana at Helena. It was sunday, so we just wandered about the empty halls. They have very many painting decorating the walls.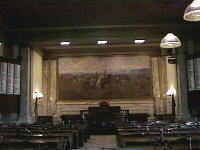 The house chambers - Helena, MT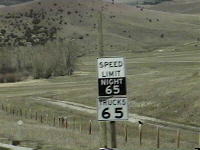 The Montana-bahn - speed limit - unlimited, but no one goes over 65 anyways.
April 29, 1996 - Driving through the passes in Idaho, I notice something unusual. The oil pressure guage is pointing at the "L" or low marker. As I watch it, it goes up and down. I stop and put more oil in the RV, but it doesn't help. So once again, we have to stop and find a local mechanic to take a look at it. It turns out that just the oil pressure sensor was bad. So we got it replaced. Originally, they wanted to charge us an hour labor for such a simple job, but we haggled them down to half an hour labor. So the moral of the story is you can haggle the price of auto repairs on the road. It starts to get really windy, so we end the day at Vantage, WA on the Columbia river.
April 30, 1996 - It's the final stretch home. It's a good thing because gas is getting extravagant at $1.50/gallon. After going through 8000 foot passes, the 3000 foot passes of the Cascades don't seem so bad. We were thinking of stopping by Spokane but considering that a pipe bomb blew up in front of the city hall, we decide against it. At last we arrive home in Renton around 1:00PM. After exactly 2 months, we managed to do half of the planned trip. No going to Boston this time, but there is always tomorrow!
THE END
Go on the European Adventure
Return to RV Adventure Home Page