RV Adventure week 3 - March 15 to March 22
March 16, 1996 - Escape from LA ... Funny thing about relatives, they just don't want you to leave. They just keep on pulling me back in ... But after one final Dim Sum, we drive off to San Diego.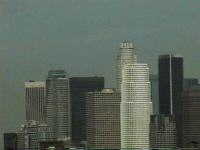 Leaving Los Angeles - Bye!
March 17, 1996 - We visit the world famous San Diego Zoo. Admission is about twice as much as any other zoo at $15. We walk around all day long. Many of the animals are behind wires or cages, so it is difficult to get a clear shot of most of the animals.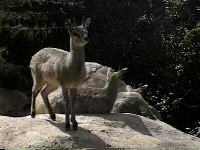 A deer standing guard at the zoo.
March 18, 1996 - We made a wrong turn getting out of San Diego and end up stopping by Balboa Park and taking pictures. Then we head to the Arizona desert. It's hot ... Africa hot! The RV air conditioner works for 30 minutes, then I have to turn it off for 5 minutes before it will work again.
March 19, 1996 - Before leaving, I do a safety check and find that some of the tires are below pressure and that a clamp for the suspension springs worked loose. I fixed the clamp and went to a gas station to add air to the tires. I had to add quarters to the machine to keep it going. We headed to Phoenix on a 2 lane road. It was tough keeping up with traffic and letting people pass by. It sure is more difficult to drive on a small highway. We visit the capital of Arizona. They have a very nice museum and even a piece of the U.S.S. Arizona. We finish the day in Tucson Arizona.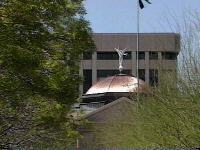 Capital dome in Phoenix.
March 20, 1996 - Tucon doesn't have much except for the university of Arizona. There isn't anywhere I can park an RV, so all we can do is drive through campus. The day ends at Deming New Mexico.
March 21, 1996 - We pass through El Paso Texas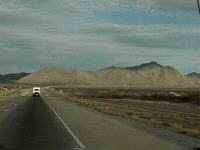 On the road - some scenery
Goto Week 4
Return to RV Adventure Home Page