European Adventure Week 1
Day 1 - Sept 16, 1997 - I wake up in the morning for an 8:00 AM flight to Europe from Seattle. There is a several hour layover in NY Kennedy airport. I watched the movie on the flight to NY. You can use your own walkman headphones and I would recommend bringing your own headphones since the ones they pass out aren't very good. At NY, we met the rest of our travel group and our tour leader. On the flight to London, I tried to get to sleep, however, it was noisy and they kept the lights on, so it was difficult to sleep. I would recommend bringing along a sleep mask and earplugs. My neck kept on falling over, so having a travel pillow to keep your head straight would be good. I ended up taking my coat and rolling it up like a towel and wrapped that around my neck. By the time you get to London, it's morning again!
Day 2 - Sept 17 - We all hop on our bus and go for a driving tour of London. The buses are standardized and they give you a commanding view of everything around you. We basically drive around, stop for 20 minutes to take pictures at places. We had the afternoon to do whatever we wanted, but I was zonked from the flight, so I took a nap. Since I was traveling with a chinese tour group, every night we ate at a chinese restaurant. It's a good thing I like chinese food! There were still many flowers left for Princess Diana at Buckingham Palace. This is a picture of the banners hanging on the gate.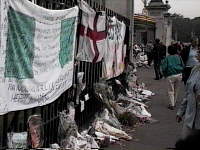 Day 3 - Sept 18 The routine for the trip is to wake up early ( 6:30 - 7:15AM) and go to breakfast. Breakfast was provided for this trip and usually was a simple continental breakfast with bread, juice, & jelly. If you like meat for breakfast, you need to bring your own. I kept with me some beef jerky, granola bars and juice boxes as emergency food. Today we took the train from London to Paris through the new EuroTunnel. We spend the rest of the day touring Paris. Here is a picture of the Eiffel tower. They have the number "835" displayed in big lights on the tower. This is the number of shopping days until the year 2000.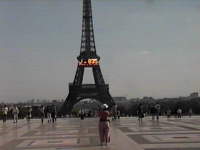 Day 4 - Sept 19 - We stay in Paris to visit some of the attractions. We visit Versailles which is a big palace of Louis XVI and Marie Antoinette. Lots of artwork and gardens. We also take a quick tour of the Louvre. Here's a picture of the Mona Lisa. It's behind a glass box, behind a rope barrier, so you can't get a really good look at it.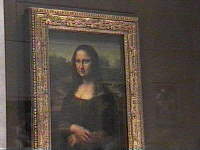 Day 5 - Sept 20 It takes about half a day to drive from Paris to Switzerland. You can watch the scenery go by or catch up on your sleep. Some of the people on the bus volunteer to tell jokes and sing. We visit the city of Lucern where one of the major artworks is a lion carved out of rock cliff.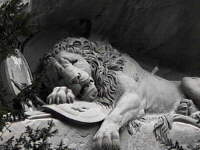 Day 6 Sept 21 - We drive to the center of Switzerland to Mt. Titlis and take a 10000 foot trip up to the summit on gondolas. The weather is cloudy so we don't know if we're going to be able to see anything. But we break above the clouds and get a great view of the Alps. I also take the opportunity to try out the inter-tubing run they have set up.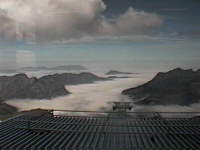 Day 7, Sept 22 Today we take the bus to Rome. We stop off at Pisa to take a look at the leaning tower of Pisa. The tower is just a small part of a larger complex of church buildings and museums.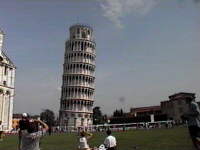 Click here to view week 2