The Seattle PictureBox Screen Saver Tour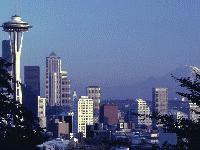 Skyline - Space Needle and Mt Rainier from Queen Anne Hill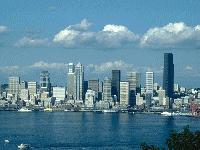 Skyline View from West Seattle Viewpoint Park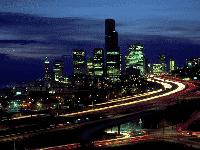 I5 Night Skyline from Beacon Hill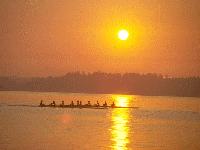 University of Washington Rowing on Lake Washington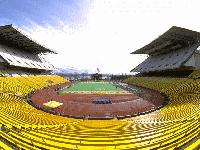 U. of Wash Husky Stadium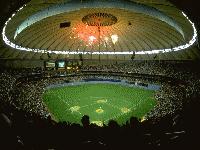 It'a a Home Run! Mariner's fireworks in Seattle's KingDome.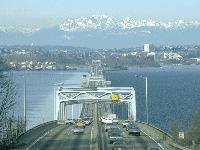 520 Evergreen "Floating Point" (get it?) Bridge. Olympics and UW in background.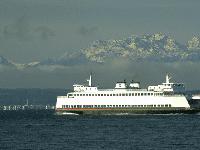 Washington State Ferry on the Puget Sound. We've got more ferries than anyplace else in the US.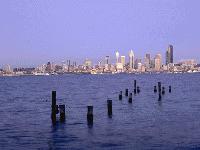 Another Skyline shot from West Seattle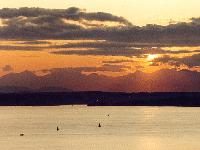 Puget Sound Sunset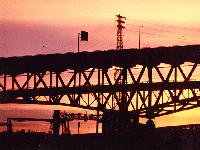 I5 over the ship canal, near U. Wash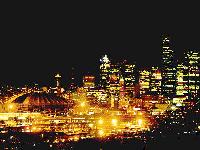 Original shot from Beacon Hill, up the hill from the Rainier Beer sign. If this angle shows up on a calendar next year, we were the first ones to get this shot!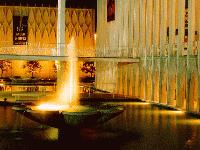 Pacific Science Center fountain at night, site of 1962 World's fair science pavillion.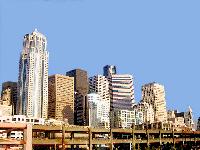 Skyline from Waterfront Park. Unlike San Francisco, we kept our unsafe and ugly 2 level roadway, it's a nice drive on the top though.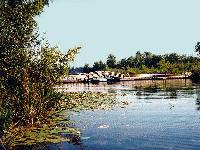 Wetlands near U. Wash Aboretum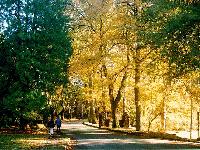 Fall at the U Wash Aboretum.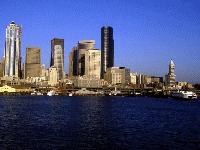 Skyline - Ferry Boat leaves for Elliot Bay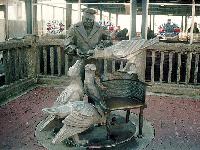 Keep Clam! Ivar Feeding the Seagulls. This local guy features TV commercials with clams on unicycles, and pays for the waterfront fireworks.

Old and New: Smith Tower, once the tallest building in the west and still a tourist draw, the Columbia tower, now the tallest in Seattle.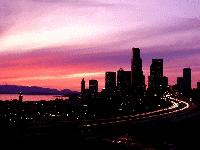 I5 Skyline at sunset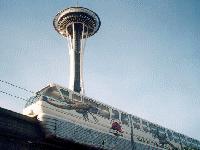 The Monorail and Space Needle. The only full-sized monorail that actually functions as useful (well sort of) transportation in the US.

The Hammering Man at the new Seattle Art Museum. He's across the street from the Lusty Lady, another artistic attraction on the internet.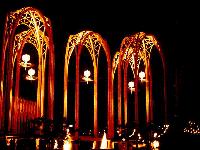 The Pacific Science Center Arches at night (actually this shot is from the 70s)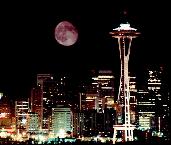 Space Needle and Moon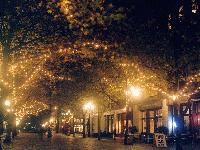 Occidental Square in Pioneer Square at night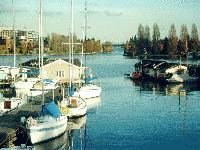 Houseboats in the Lake Washington Ship Canal near the U of Wash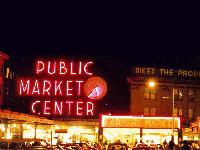 Pike Place Market. The Flying Fish place made famous by the Spike Lee commercial is under the sign.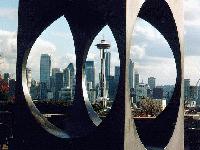 Space Needle from Kerry Park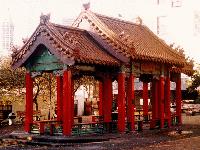 The International District: Chinatown and more. Up the hill, it's little Saigon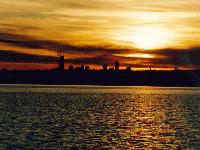 Skyline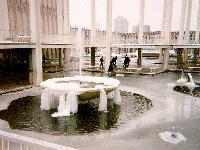 Yes it gets cold here once in a while, the fountains at the Pacific Science Center
If you like these pictures, they are available in the Seattle PictureBox screen saver. The screen saver displays 37 of the most beautiful, professionally photographed pictures of Seattle. These are the clearest, sharpest and most colorful photographic quality pictures pictures possible on your computer. The photos are high-resolution 640x480x256 color .JPG files that are compatible with other graphics and screen saver programs. The pictures are automatically displayed when your computer is inactive to prevent screen burn-in. Each image is displayed with eye-catching incoming and outgoing special effects. This is perfect for showing off pictures on your color monitor. Try out our demonstration screen saver to see for yourself. (580k) The screen saver works on both Windows 3.1 and Windows 95.
Download Demo Seattle PictureBox Screensaver
To install, save seademo.exe to a temporary directory and run it, it then run install.exe
To order the complete 37 picture Seattle PictureBox screen saver, send $15 to:
Intellect Systems
Seattle PictureBox Screen Saver
8632 39th Ave SW
Seattle, Wa 98136

For more information email us Home