The Big California Coastal Cruise Adventure
By Franklin Hu, April 6-13 2013
This is my adventures with taking the California Coastal cruise offered by Princess Cruises. I purchased my tickets directly from Princess.com. Advertised prices started out at $649 when I booked and tend to go up the further in advance you book your trip. Once we added vacation insurance ($77), transfers($50) and taxes ($84), it winds up to be $859 per person double occupancy. After you pay for gratuities, drinks, excursions and photos, it ends up being more like $1000 per person - not bad for 8 days worth of vacation ($125/day). For the least expensive fares, they offer a "guaranteed cabin". This means they don't assign you a cabin when you book. They send you the cabin number a week before the ship departs. This worked fine for me as most interior cabins are absolutely identical. Things that were new to me was that it used to be that service charges were handled with a little envelope in your room where you provided tips as you see fit. Now, they have changed this so that a standard service fee of $11.50 per day is added onto your shipboard account for every day. That's about $160 for two for a 7 day cruise. That works for me since I don't have to plan to have a wad of cash to stuff into those envelopes at the end of the cruise. Photos cost $20 per sheet and they take photos of you arriving and during the 2 formal nights. Another thing that has changed was that your dinner seating used to be at a fixed time with the same waiters. You can still do that if you indicate you want "traditional dining". Otherwise, you can choose "anytime dining" where you can go to any of the other dining rooms at any time. At the time I booked, the traditional dining option was sold out. But we were able to arrange traditional dinning with some friends on the trip. I didn't try anytime dining, but the menu and the dining room service appeared to be identical. Another thing they will offer you when you arrive on the ship is to buy a sticker you can put on your cruise card that allows you to have unlimited soda drinks. Soda's normally cost $2.25, so if you're planning on drinking 3 or more soda's a day, this might be for you.
Here is a link describing the trip:
http://www.princess.com/learn/destinations/california_coastals/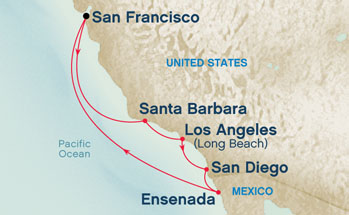 The ship departs from the Los Angeles area, so I flew into the LAX airport from Seattle. It turns out that the Long Beach airport is closer and others told me it is cheaper to fly into Long Beach for this cruise.
We I arrived at the airport, the Princess representatives were at all of the baggage claim areas to greet you. I had paid for the transfer to the ship, so as soon as I got my luggage, we were transported by bus to the cruise line terminal which is about an hour's drive away from LAX. When we arrived at the terminal, it was not very crowded and were able to check in relatively quickly. If you are bringing someone with a wheelchair, they have a special line for you so you don't have to wait long. We got on the ship around 2:00 and found our cabin. Then we went up on deck to find some food! We found our way to the main buffet room and had lunch.
After eating, we had to attend a mandatory "muster" drill. This consisted of finding our life jackets and bringing it to our muster station which was labeled with a letter on the life jacket. The muster station is just a large area on the ship where people can sit. For me, this was main theater, for others it might be a lounge. This is different from previous muster drills I have done where you actually gathered by your lifeboat with your lifejacket on. You just sit down in the theater and they present safety information - not quite as exciting as standing by your lifeboat!
The ship was about 3 hours late leaving LA for some reason - a fireboat was circling the ship for some reason. This made the arrival to San Francisco late, so some tours had to be cancelled. Unfortunately, the Alcatraz tours could not be rescheduled, but the others seemed to be fine. If you want to goto Alcatraz, sign up early, this seems to be a guaranteed sellout.
Here two videos of passing underneath the Golden Gate bridge. When we left, it was a beautiful sunny day and I hung out at the hot tub while we went back under the Golden Gate bridge. You can get no better view!
The ship is big, but that doesn't mean it doesn't rock. The seas were pretty rough sailing out of San Francisco and I was getting a bit seasick. If I tried to look at and concentrate on something like grabbing something out of my bag, it would make me sick and I had to lie down. The ship has various sea sickness remedies and I tried the sea band and Dramamine, but that didn't seem to help at all. I got some other sea sickness pills from some freinds and that seemed to do the trick. I was fine after that. When the seas get rough, they block the doors to the outside deck and you can watch spray reach up to the railings. When you sleep, you can feel yourself sinking and rising in the mattress. I think that messed up my back during the first night because I could barely stand the next day. I would recommend sleeping on your side if there are waves.
There's a pretty regular routine when on the ship:
Wake up around 7:00
Get dressed and out of the cabin around 8:00
Get breakfast from 8-9.
Leave the ship for tours around 10.
Arrive back at ship around 2-3
Dinner at 5:00 - 6:00
Theater Show 8-9
After that, the entertainment crew usually has some passenger participation games and they have a singing contest named Princess Popstar. For a ship with 4000 people on it, I was wondering where all the people are since I never saw many people in the various lounges and bars. We also never needed to stand in line for anything except the elevators at dinner time.
It's usually a pretty full day.
I would rate meal times as excellent. I'm not restaurant expert, but I'd say I had meals worth about $50 per person on the ship. If you're on a 7 day cruise, one of those days is lobsters. They give you a menu where you can pick from an appetizer, then the main meal and then dessert. You can order and eat as much as you want which is something you can't do on land without thinking about your pocketbook. So you can feel free to splurge everyday. I'm not sure how they do it, but they take your order, prepare the meal to your requested doneness (for steaks) and come back within a relatively short amount of time. If you like to eat, cruises are for you! You can expect to put on a few extra pounds, but these tend to come off within 2 weeks of returning from your cruise.
In San Francisco, we visited the Aquarium by the Bay at Pier 39. I wasn't expecting much, but they have the most amazing jellyfish exhibit and tunnel that you can walk through.
My mother needed to use a mobility scooter to get around the ship. The scooter is just wide enough to fit through the cabin doors. The scooter was usually parked in the closet opposite from the bathroom. It wasn't a problem keeping the scooter in the cabin. It was a bit difficult backing the scooter out of the cabin and in the morning, they housekeeping usually puts out their carts and it is a bit of an obstacle course to get past the carts and vacuum cleaners. When you get off the ship, there is a team of people who are dedicated to helping you with your scooter or wheel chair. I only saw about 3-4 other people using scooters on the ship. The elevators can get pretty busy around dinner time or when a show ends, so we would have to wait to get an elevator. During meal times, we would find a spot to park the scooter. There was usually a spot where it would fit. On some of the destinations, you take a "tender" which is actually a fancy version of one of the lifeboats. We were able to take the scooter on the tender and they kept it tied up to the deck of the tender and were able to move it around with a problem. We were able to take the scooter on the Santa Barbara tour, but not the Catalina Island tour. We had to leave the scooter on the dock in that case.
The cabin itself only appeared to have 2 electrical sockets. One in the bathroom and one in the main cabin. When trying to charge multiple computers, cameras, phones and a scooter could be a challenge at times. If you have multiple electronic devices, a power strip would be advisable.
In Santa Barbara and Catalina Island, we took tours offered by the ship. We didn't have any specific plans, but when we got on shore, they said they had space left on the tours so we went. We just needed to show them our cruise card. When we arrived at San Diego, there's an aircraft carrier on one side and submarines on the other. I saw the subs in the morning and the Midway carrier in the afternoon. When you leave the ship, you show your cruise card and when you return, you go through airport-like security. This meant that I had to unload all of cameras, cellphones, belts, etc when going through the checkpoints, so it pays to bring as little as possible.
The last stop is Ensenada, Mexico. The city is about a 20 minute walk. They offer shuttles for $3.00, but we decided to just walk. They have a huge flag, so that is where we walked to. We then returned to the ship so that we could watch the movie "Argo". The ship played several recent run movies on the ship.
On the last day, they request that you pack your bags and place them outside of your cabin before dinner. They have a self serve terminal where you can get a printout of all the charges you have placed on your card. When we arrived in LA, we were assigned a departure lounge and we waited until we were called where we lined up to go through customs. While the line was long, it moved along quickly enough. Then we entered the terminal and went to claim our bags. It is a couple of hundred feed from the luggage room to the buses, so there are people there to help you move your bags. I had piled all of our luggage on top of one another and took it out myself. The transfer buses were able to easily take the scooter.